Virginia Plein Air Painters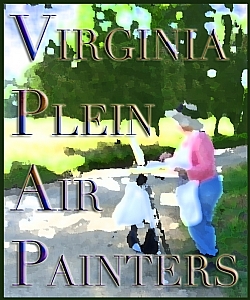 THE VIRGINIA PLEIN AIR PAINTERS
Welcome.....the Virginia Plein Air Painters is a confederation of artists who enjoy painting outdoors. Our members range from beginners to master artists; the beginners tolerate the masters; and the masters guide the beginners. It is a mutually rewarding experience. This web site lists all news and events. In addition, you can check out some of the artists who paint with the Virginia Plein Air Painters.
Our artists volunteer to host our various paint outs during the season. Sponsoring artists select and nominate the sites. Permission to use the site must be secured, and restrooms must be available. Directions and other pertinent information should be provided by the host to VPAP several weeks in advance of the event. The day of the event, the host artist will be on site and collect attendance information which is forwarded to the person in charge of attendance.
The 2013 paint outs were very well attended, and there were many offers to host excellent locations. The locations we visited were Byrd Park, Mill at Fine Creek, Maymont Park, Robius James River Park, Windemere Galley, Meadow Park, Norwood on the James and Difficult Hill. Reservations are now underway for the 2014 painting season.
THE SCHEDULE OF 2015 PAINTOUTS IS LISTED ON
THE "UPCOMING EVENTS" PAGE.