Virginia Plein Air Painters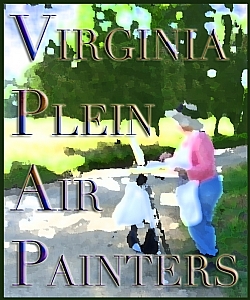 THE VIRGINIA PLEIN AIR PAINTERS
The Virginia Plein Air Painters is a group of dedicated artists committed to communicating the value of local, spontaneous art that captures the light and emotion of the moment. The term en plein air is French for "in open air". While artists have painted outdoor sketches for hundreds of years (as references for their finished studio work), artists of the Barbizon School and the French Impressionists emphasized the importance of creating completed paintings done outdoors. Their interest was not in the polished, finished 'academic' look popular at the time; rather, one of their goals was to capture the changing light that occurred throughout the day. Their work was made easier by the invention of collapsible tubes for paints and the portable box field easel.
The Virginia Plein Air Painters encourages broad-based participation and welcomes all. There is no traditional administrative structure, and there are no meetings or entry requirements for membership. Artists get together and paint as a group in what is termed a 'paint-out' (think of a happening, only with pencil, brush, paper and canvas). Monthly paint-outs occur once a month from March through October, in and around Richmond and surrounding areas.
Individual members volunteer to host paint-outs (finding a site and maintaining a sign-in sheet), and minimal attendance is required. The organization actively seeks out new locations for paint-outs and welcomes guest participants to these events.
THE SCHEDULE OF 2015 PAINTOUTS IS LISTED ON
THE "UPCOMING EVENTS" PAGE.